Diesel Fuel Pre-Filter Purifiers
Before and After Fuel Cleaned by Dieselcraft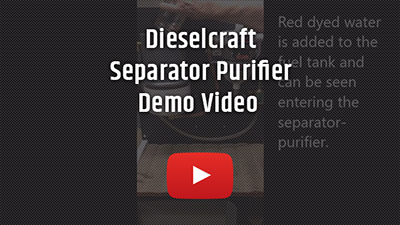 The marine industry relies on the Fuel Water Separators and Stabilizer to remove 99% of water, 95 % of solid contaminates and disperse agglomerated micro-organisms (sludge/slime) before they clogged the primary filters or fowls the injectors. The Purifier is available in the ABS/PDA version. Installed on main and auxiliary engines such as CAT. Cummins. Deere. Perkins. and more!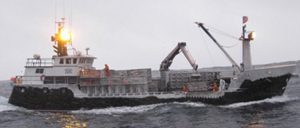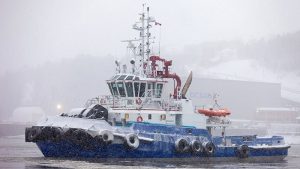 HOW MUCH WATER IN FUEL IS OK?
Equipment manufacturers specify that ZERO free water must reach the engine.
Zero water is not realistic. All diesel contains some percentage of water. The most important thing is to keep the water below its saturation point so that it stays dissolved rather than entering your equipment as free water.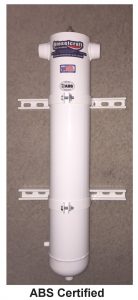 Saturation points vary from roughly 50 ppm to 1800 ppm based on temperature and on the petro diesel/biodiesel ratio. When water content reaches the saturation point, the excess water will fall out as free water. Your diesel may hold 90 ppm dissolved water when warm, but only 60 ppm when it cools down due to colder weather. The 30 ppm difference falls out as free water and settles to the bottom of the tank.
Knowing the water content is important and getting rid of it even more so. ( to test fuel see our Fuel Products Page)
Dieselcraft HD Fuel Water Separators are based on surface tension principle. Since diesel and water have different surface tension as well as density, when a mixture of diesel and water is spread over a large area water droplets and large solids will separate from the fuel.
In fuel water separation, the larger the surface area the better. Dieselcraft HD Fuel Water Separators are engineered for maximum "residence time" based on flow rate. Residence time is a broadly useful concept that expresses how fast something moves through a system in equilibrium. The longer the residence time the better the cleaning.
Dieselcraft utilizes matched flow rate to surface area and activated alumina to get the water to agglomerate and drop out of the fuel.
All Pre-Filter Fuel Water Separators are supplied with a water sensors and the needed mounting hardware.
Pre-Filter Fuel Water Separators ARE NOT PRESSURE VESSELS.
Model # is size in inches
Maximum Flow Rate
Data Sheet & Drawings
5 x 8 x .500
For Engines Less than 200 HP
72 GPH / 270 LPH
Download Spec Sheet
5 x 12 x 1
For Engines 200 to 650 HP
180 GPH / 690 LPH
Download Spec Sheet
5 x 16 x1
Optimum performance for engines from 400 to 1,200 HP if space allows
240 GPH / 907 LPH
Download Spec Sheet
5 x 24 x 1
Fuel Polishing or for engines from 400 to 1,200 HP if space allows
420 GPH / 1587 LPH
Download Spec Sheet
5 x 32 x 1
Fuel Polishing or Fuel Transfer Applications
480GPH / 1814 LPH
Download Spec Sheet
8 x 20 x 2
Fuel Polishing or Fuel Transfer Applications
1200 GPH / 4536 LPH
Download Spec Sheet
8 x 51 x 2
Fuel Polishing or Fuel Transfer Applications
2400 GPH / 9072 LPH
Download Spec Sheet

18 x 56 x 3
For Fuel Transfer Applications
100 gallons per minute/ 378 LPM
Download Spec Sheet
18 x74 x 4
For Fuel Transfer Applications
200 gallons per minute/ 756 LPM
Download Spec Sheet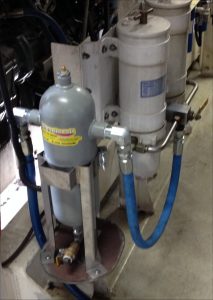 All Dieselcraft HD Water Separator designs undergo velocity magnitude simulations. The test shows the speed of the fluid as it goes through the separator. Choose the wrong separator and water is not removed. Dieselcraft is the only company that gives the exact numbers you need to match the separator to your application.
Install a HD Water Separator between the day tank and the main tank and remove 99% of the heavy contamination and water before it gets to your main Racor filtration. This means less filters per year.
---
Diesel Fuel Stabilizers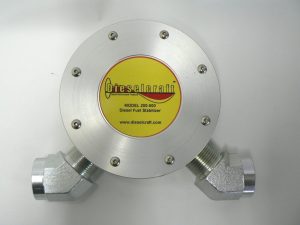 Dieselcraft Fuel Stabilizers use an accepted practice in the marine industry of a dual magnetic field to stabilize the molecular structure of the fuel prior to combustion giving more power, enhanced combustion, and savings in fuel and maintenance costs.The units are sized based on fuel pump flow rate in gallons per hour. The model number is the flow rate in gallons per hour. To calculated engine fuel flow rate multiply HP x 0.18.
Use in conjunction with Dieselcraft Fuel Purifiers to make a complete system.
 Bypass Oil Centrifuge Systems
Oil Purification to 1 micron with no filter.
For these engines and many more:
Cummins KTA38M2 1200 HP
Cummins KTA50M2 1600 HP
Cummins QSK38M 1300 HP
Cummins QSK19M 750 HP
Cummins KTA19M3 640 HP
John Deere 6125 350 HP
John Deere 4045T 105 HP
John Deere 6068T 155 HP

.
For large diesel engine applications as well as for stand alone and in line industrial systems.
We have many direct fit mounts for a variety of common  CAT, Cummins and John Deere
NEW is the Dieselcraft Model 250 Direct Fit to CAT 3500 series engines.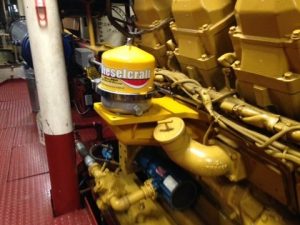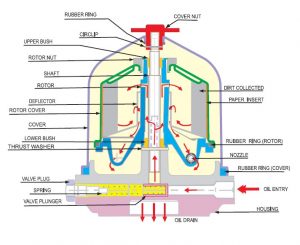 Model OC-25 Bypass oil cleaning for
smaller internal combustion engines.
We have new direct mounts available for John Deere and Cummins Generators. Contact us for details.
These centrifuge systems will at least double oil change intervals.
Centrifuges have over 5 times the debris-holding capacity of any filters on the market. Why you ask, because the centrifuge removes contaminants from the oil flow all together. Filters take out solids and hold them from circulating further but plug and reduce oil flow and eventually reach the point of not working. The cleaning efficiency remains constant in a centrifuge where in a filter it drops off as the filter plugs.
These are the ONLY systems that are plug and play for the pick up truck to class 6 truck market.
Download Centrifuge Data Sheet
Contact:
Marine Products Manager
Bob Vogel
Get a Quote
Call or click to email 772-215-8087